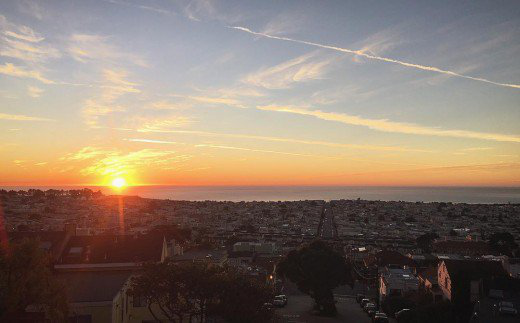 Situated in the northwest corner of San Francisco, Richmond District has the distinction of being surrounded by vibrant greenery and stunning views. With Lincoln Park, Mountain Lake Park and the Presidio to the north, Golden Gate Park to the south, and the shoreline of the Pacific Ocean to the west, the neighborhood sits like a jewel of urban charm and diversity within a ring of breathtaking natural beauty.  It's well worth the investment in time to get to know this enigmatic area on your next visit to the city.  Here are some of the highlights.
Explore the Parks
Each of the surrounding parks features unique attractions that reward the sightseer. The 100 acres of Lincoln Park include the Legion of Honor Museum and a renowned 18-hole golf course. Mountain Lake Park has wooded areas, walking trails, sports facilities and of course the lovely namesake lake. The Presidio encompasses almost 1,500 acres of museums, historic buildings, fields, woodlands and walking paths.
Golden Gate Park takes days to properly explore. Its museums include the California Academy of Sciences and the De Young Museum. Among its botanical wonders are the Conservatory of Flowers, the Japanese Tea Garden, the San Francisco Botanical Garden and the Rose Garden. Sports enthusiasts can find locations to pursue archery, cycling, fly fishing, surfing and ultimate Frisbee. The park offers many opportunities for bird and wildlife watching, and even includes a paddock of American bison.
Enjoy the View
Many points in the Richmond district provide amazing views of iconic San Francisco landmarks such as the Golden Gate Bridge and the Marin headlands. For a stunning look at the bridge, the headlands, the wind-swept shoreline and the Pacific Ocean, head for Land's End at the tip of Golden Gate Park and take the Coastal Trail to the Hidden Labyrinth. In the late afternoon, watch a dense curtain of thick white fog roll in off the Pacific waters and envelop the neighborhood.
Stroll the Streets
To really get to know the Richmond District, take long leisurely walks along its fascinating streets. Although some consider the neighborhood an extension of Chinatown, the neighborhood boasts a wealth of diversity. Shops and markets carry exotic items from the Indian Subcontinent, northern Africa and the Far East. Some cinemas specialize in foreign and independent films, and grocers and bakeries offer tasty treats from countries such as China, Japan, Guatemala, Morocco and Cambodia. This mix of various intriguing cultures exists in the midst of classic San Francisco streets and architecture.
Savor the Cuisine
The Chinese restaurants in the Richmond District are famous for dishing up better Chinese food than can be found in Chinatown itself. Of particular interest is Chili House SF, which gourmets insist serves the best Peking duck in the Bay Area. The chief chef has been honing his excellent cuisine for decades, and his specialties have even been sought out by heads of state.