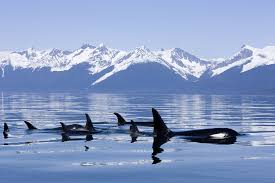 Have you been wanting to check out some of North America but you aren't sure where to start or what you should do during your time there? The continent is so vst and expansive it's easy to get confused and overwhelmed on what it is you should consider doing and where to start. Here are a couple of great suggestions for your big trip to North America.
Alaskan Cruise
Have you always wanted to see the impressive snowy peaks and valleys of Alaska? One of the most beautiful states in America, Alaska is home to some impressive coastline as well as adorable cove towns and villages and some seriously impressive mountains. If you choose to go on a cruise to Alaska you can be assured that you will spend every moment in awe, especially if the Aurora Borealis come out to play, not to mention the fact that some companies, such as Canadian Affair combine cruises to Alaska with stop offs in some of Canada's most enjoyable locals such as the Rockies.
Rocky Mountaineer
Speaking of Canada and its Rocky Mountains, the classic and classy train The Rocky Mountaineer is a fantastic way to get a really amazing look at this particular mountain range. Starting from either Banff or Jasper, each route carves its way through the Rocky Mountains toward Vancouver, passing through some of British Columbia's mountain towns and villages. If you're looking for luxury, this is it. This isn't another run of the mill train, the luxurious hosting and dining aboard will have you revelling at just how classy train travel can be. Additional add ons including extra adventures, treks, and even combining the journey with a cruise up the BC coast or around the Vancouver bay are available as well.
Road Tripping
It's no secret that since North America is so vast and expensive that there are ample (and we do mean ample) opportunities to explore the region by car. Whether you have only a couple of days or a week or more at your disposal, road trips can help you get down in the ditches with the locals and get to know a place more intimately. Popular North American road trips include doing parts of America's Historic Route 66 or Canada's TransCanada Highway. If you want something a bit shorter, why not pick one of the many super cool routes in the States – like the Tombstone highway from Tucson and visit the site of the historic shootout at the OK Corral and then visit Boot Hill – the cemetery of old gunslingers who died in those very shootouts that were common in the old west. You can even check out re-enactments of some of the Old West's most famous shootouts.
So there you have a couple of fantastic suggestions on things to see and do on your next jaunt over the pond to North America. Whether you hit up Canada or the US (or both!), one thing is for certain – with such a vast expanse of land to explore, you will keep coming back for more. So get those bags packed and tickets booked – you have a whole new world just waiting for you to explore!