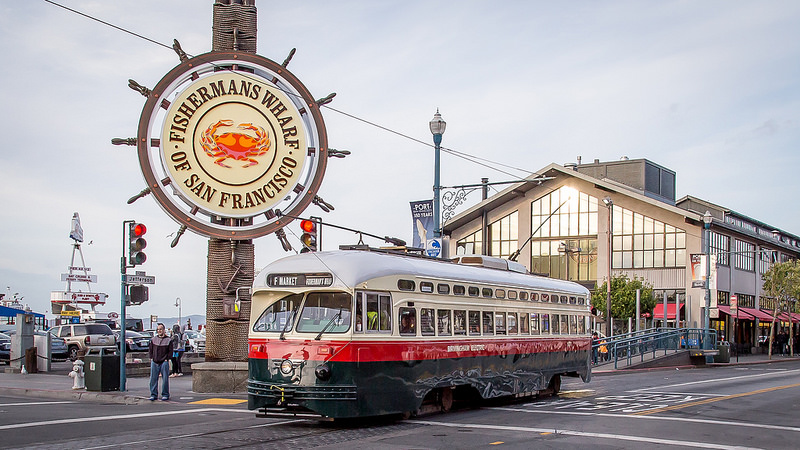 Fisherman's Wharf in San Francisco is one of the city's largest tourist attractions. Fisherman's Wharf encompasses an area from the northern waterfront area located on Van Ness Avenue and Ghiraradelli Square to Kearny Street and Pier 35.
It contains just about everything a tourist could want, including restaurants, shops, bars, entertainment, national and historic parks, aquariums, and much more. When visiting for the first time, it's helpful to know more about some of the main attractions.
Pier 39
Pier 39 comes in third place behind the Disneyland theme parks in California and Florida as the most popular tourist attraction in the United States. One reason for this is the opportunity to view sea lions up close and personal. Some other things to visit and do on Pier 39 include:
Aquarium of the Bay
Boat Tours
Magowan's Infinite Mirror Maze
Marina
Musical Stairs
San Francisco Carousel
San Francisco Whale Tours
Sea Lion Center
Pier 39 also hosts regular events throughout the year that locals and tourists alike can enjoy.
Getting Around
Taking a tour of Fisherman's Wharf while aboard an open air double decker bus gives visitors an overview of the entire area so they know what to come back to later. Purchasing a ticket enables riders to hop on and off at their convenience. Buses arrive approximately every 30 minutes. It's best to dress in layers as it can get chilly so close to the water.
Another option for tourists who prefer not to walk or drive themselves is to take San Francisco's famous cable cars. After boarding at Hyde Street near Ghirardelli Square, the cable car travels down Hyde Street to Lombard Street and Filbert Street. These streets have the distinction of being the crookedest and steepest in the entire city. It eventually heads down Powell Street and Market Street and gives riders a view of the Golden Gate Bridge. Since the cable cars are an extremely popular attraction, visitors should get in line as early in the day as possible.
Lastly, though taxis are surprisingly hard to find in many areas of San Francisco, ride-sharing apps are extremely popular, and on-demand rides are available from services such as Uber and Lyft within minutes on most streets in Fisherman's Wharf.
Beware of Over-Priced Souvenir Shops
Tourists can find deals at Fisherman's Wharf shops, but they need to do careful comparison shopping to do so. Some shop owners take advantage of people on vacation by charging a lot of money for poorly made items. People also complain of panhandlers and some who try to blatantly steal from them. A good rule of thumb is to take limited cash and travel in pairs or groups.
A Perfect Stop for Lunch or Dinner
Nothing says San Francisco like a view of the bay while dining on fresh seafood from the area. Bistro Boudin offers travelers both these experiences. Diners can enjoy a class of wine and an appetizer of sourdough bread before placing an order from the full-service menu. While fish, seafood, and oysters are the main attractions, guests of Bistro Boudin can also enjoy meat, poultry, sandwiches, or sourdough pizza. The panoramic view allows diners to take in the sights of Alcatraz, Marin, and Angel Island.
Anyone who plans to visit Bistro Boudin should take note that the full-service restaurant is upstairs at the historic flagship building on Jefferson Street. It can be easy to confuse with Boudin Bakery that is located next to the gift shop on the ground floor.