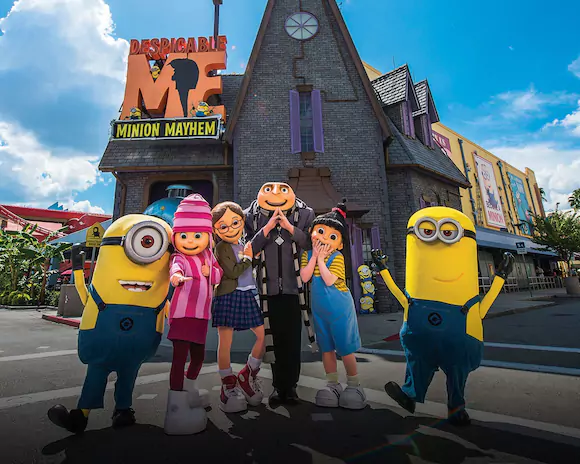 If you're starting to feel those winter blues setting in already, not to worry, you aren't the only one. Months like October may seem fun, what with all the falling leaves and changing colours, but soon the novelty wears off when you realise it's the ushering in of month of rain, wind and chilly temperatures. Oh, what would you give to relive summer for another short period. Well you can! Instead of heading out to a European island this winter, why not take the plunge you and the family have always wanted and head out to the United States? With states like Florida offering so much to see and do, it's the easy choice. Here are a couple of reasons why you should pick Florida for this year's fun-filled family getaway.
Universal Studios
With a slogan like "Vacation Like You Mean It", Universal Studios Orlando has attracted enormous numbers of visitors annually since it first opened in 1990. The theme of this park is that of movies and television and it brings these both to life through themed events, rides and other attractions strewn throughout the park. Visitors can enjoy thrilling rides based off their favourite films produced by Universal Studios such as Despicable Me, Shrek, Transformers and starting in 2014, a huge section devoted to Harry Potter. For the younger kids there's an entire area dedicated solely to the animated cartoon Woody Woodpecker that they can enjoy. When you go to Universal Studios you don't just have to go on rides either, there are a plethora of live shows featuring your favourite characters, puppet shows, dining and shopping facilities as well. Don't forget that there are hotels that are incorporated into the resort as well, so you can really maximise your time at the resort.
Disney World Florida
Much like Universal Studios, Disney World Florida is an enormous resort dedicated to Disney films and characters and features the elegant Cinderella castle as its main focus in the park. Visitors can rub elbows with characters and even enjoy breakfast with Mickey and Minnie mouse, or have their pictures taken with their favourite Disney princesses or other characters. Keep an eye out for Pluto – he loves photos! Be sure to stay for fireworks which happen every night over Cinderella's castle too, a perfect way to end your day at Disney. Also like Universal, it has a number of hotels right in the resort, so you can get the most out of your stay!
The Florida Keys
Perfect for adults, but with options for kids too, the Keys as they're commonly known are like a string of pearls between the Atlantic Ocean and Gulf of Mexico, southwest of Florida's mainland. Home to a number of luxurious resorts and white sand beaches, this is the perfect getaway for those looking for sun, sea and sand. Cruises are available around they Key islands, including Disney cruises that stop off in Key West as well as to the Bahamas. This is a great spot for snorkelling and diving as well, so if you're a fan of getting under the water, this is the place for you!
There you have a couple of great reasons to visit Florida this winter. If you're looking for something a bit different from your typical package holidays, this is the place for you. So come check out Florida – you will be glad you did!